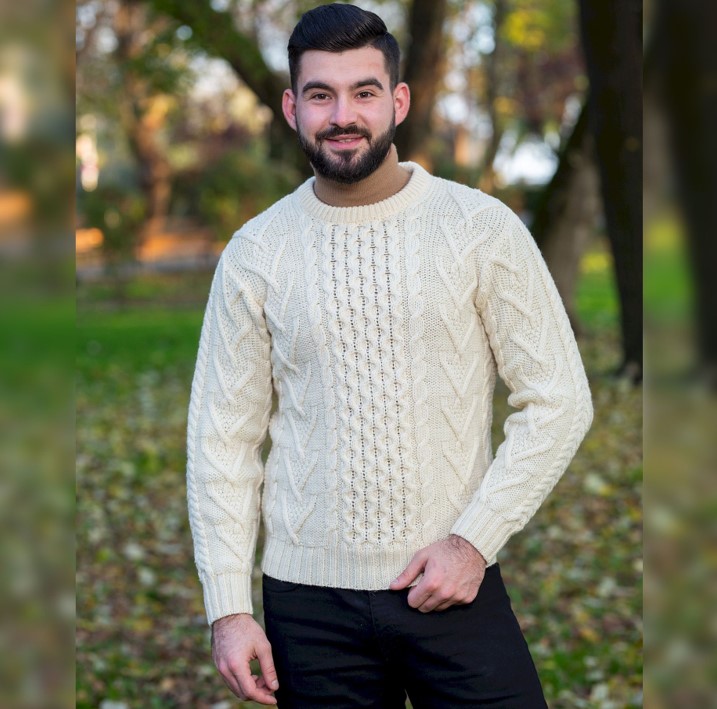 The iconic Irish Aran sweater has been having a revival in fashion and in music recently, and it certainly has something unique to offer. Whether you always were a fan of the chunky Irish knit sweater or you were just recently introduced to it, you probably know that it is not only a warm garment to wear, but it is also a very stylish and versatile one. You probably also know that it has a rich history and tradition behind it. Besides, it is the kind of garment that adds character to any outfit thanks to its authentic look and feel. If you think about buying one, you can stock a large range of Irish sweaters at Tara Irish Clothing – a renewed Irish knitwear manufacturer.
History of the Irish sweater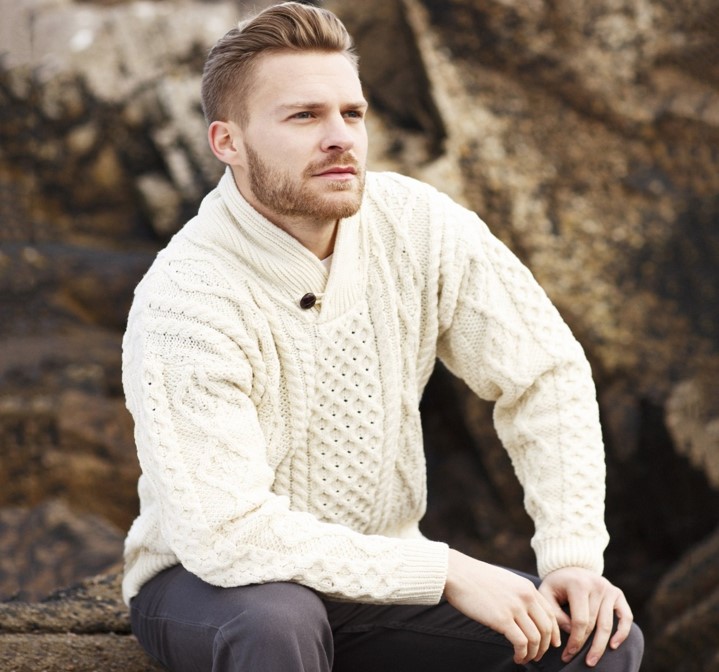 Image credit: Shawlneck Irish Sweater for Men
Aran sweaters were initially knit for the fishermen of the Aran Islands. They were made from coarse oily wool that was thick and warm enough to protect fishermen from the harsh Atlantic elements. Nowadays, Irish sweaters are made from much softer and more lightweight Merino wool. Although the sweaters are no longer made from coarse and heavy wool, that image of rugged masculinity is still preserved to this day in the Aran knit style. But apart from that, there is also the feeling of authenticity, as well as the admiration for the amazing craftsmanship behind it that makes the Aran knit style so irresistible.
The Irish sweater – a fashion icon
One of the first celebrities that wore an Aran sweater on-screen was Elvis Presley in Jailhouse Rock. The 1960s were a defining decade in establishing the Aran sweater as a fashion staple. For the Irish band The Clancy Brothers, who were majorly popular in the '60s, the Aran sweater was part of their image. In the late '60s, the style was further popularized by John Lennon, who gave the style a melancholic and bohemian twist. There were many iconic moments for the Aran sweaters both on-screen and off-screen over the years. Today, we have Chris Evan's Aran knit style in Knives Out.
How to wear an Irish sweater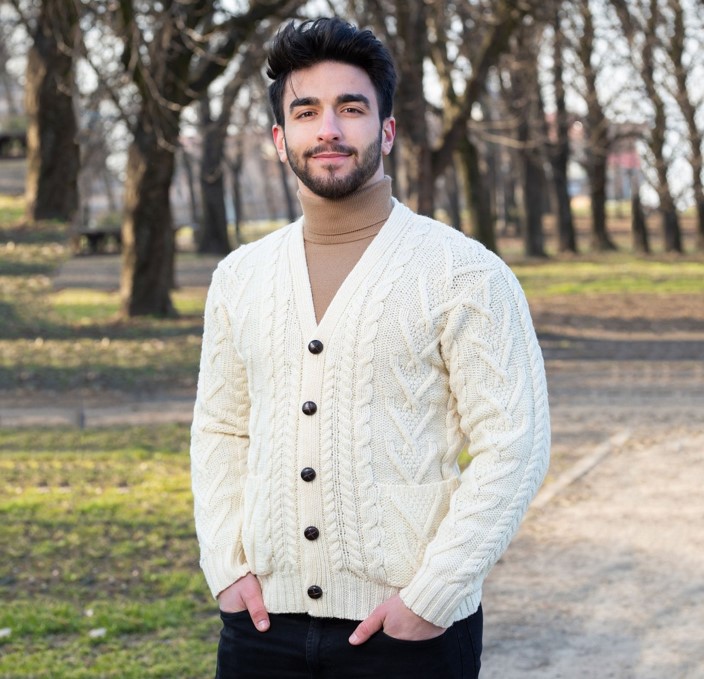 Image Credit:  V-Neck Aran Sweater Cardigan at Tara Irish Clothing
An Irish sweater is more than just something to throw on when it's cold. It's a versatile garment that is compatible with many different styles. It's not suited for a formal occasion, but it would definitely work great for a business casual outfit. A V-neck sweater would go great with a shirt and tie underneath and a blazer on top. For the perfect business casual look, you should wear a shawl Neck collar Aran sweater. The most common way to wear an Aran sweater is to match it with casual clothing. It works perfectly with a pair of jeans. It might seem like an uninteresting combination, but it is all about the details. For example, you can add a stylish contrast to your look by pairing a bright colored sweater with a dull colored pair of pants or the other way around. You could also add a stylish accessory, for example a scarf or a belt. Style is not about fancy clothes, it is about the little details that you put into your outfits.
Related Posts